Customer Reviews
03/10/2021
Sohil

United States
I recommend this product
Amazing strat sounds!
This made my recent guitar build sound exactly like the most beautiful vintage stratocaster I dream of. The clarity and chime of the neck and position 2 are absolutely perfect. Putting alnico 5s in the bridge position was also genius making the bridge sounds great all on its own and adds that extra bite to position 4. Highly recommend if you are chasing that vintage strat sound this is for you.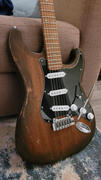 01/11/2021
Gino A.

United States
12/13/2020
Ed P.

United States
I recommend this product
These are perfect strat pick ups.
Got them in December on time. Put them in my strat couple days later. Messed around with finding tones . Wow first thing off was the beautiful 1950's bell chime from all the notes , you know the sound that comes from those 50,000 dollar vintage guitars . I'm not lying these venus isle pick up's in my 20th anniversary Squire Strat was as good for sound quality , feel under the fingers "ease of notes " I guess , hard to explain but made me feel like Eric Johnson , kinda of, but really found getting those tones with a little drive and compression unbelievably easy and and so fun . I have been chasing that tone for many years and thought my only hope was with a 2000 dollar amp. I have a 40 watt amp with 2 -6l6's and cost me less than 300 dollars a " Pulse" amp head with 2 - 12in Celestion speakers . Truly the sound , tone, and feel these pick up's have given me are beyond expectations. I have a Seymour Duncan 59 sh1 humbucker in the neck of my Tele, with custom shop Fender nocaster in bridge , also a 57 plus Gibson custom shop h. bucker in neck and PRS Santana 3 humbucker in bridge in my Hamer double cutaway guitar. I love each of these but I honestly can say these Venus Isle calibrated Strat set of pickups have completed my sound search that I wanted and have in my head. Will do some more testing and hoping that that SRV tone will be easily attainable, imagine they will come close. Am truly happy with these and if you wonder if they are worth the purchase stop wondering , they are ! Clean tones , Bell like chimey chords, wonderfull overdrive , rock star feel and playability ,with ease that let's even myself come near to sounding and playing like Eric Johnson. Have been playing since late 80's and these pickups have just made my sound better. I think any of Planet Tone pickups would be a good buy and choice, just look at the specs and compare to those pickups your favorite artists use, find your desire it's attainable with these. Oh by the way I'm not affiliated in any way with P.T. other than my pleasant purchase. Hope this can save some one money and endless rabbit hole chasing.