Customer Reviews
04/27/2022
Rick

United States
I recommend this product
SANTORUM FTW!
Ok, so I just put a set of Santorum in my burst and I gotta say: this stuff's got *****! Sweet and creamy mixed with the perfect brown sound. I've been going down on this tone hole for years and finally got hit with the motherload!
04/15/2021
Joseph ".

United States
I recommend this product
Made my PRS Sing!!!
Ordered a set for my SE Tremonti. Chrome neck, Black bridge. I wanted it to look the part. Wasnt expecting it to sound so GOOD. These pickups sing. Creamy when tone and Volume are rolled back, and then add some Gain, crank that Volume and tone knobs. BAM its into the Stratosphere lol You won't regret buying these pups, unlike that tattoo you cant show anyone!!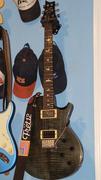 These pickups are incredible! I replaced some name-brand pups that ...
These pickups are incredible! I replaced some name-brand pups that sounded dark and muddy in my guitar with the Sanctorum Humbuckers, and what a difference — the Sanctorums have a clear, warm sound and great articulation. I wired them with dpdt switches for series/parallel configurations, and now, with my 3-way switch, I have 8 different tones, and all of them sound great. I was a little worried that high-output pups would be too powerful (I don't really want a 'metal' sound), but they're not — I lowered the height a touch and get beautiful and clear tone for clean and jazzy sounds, but still have immense power for higher gain settings. Thanks, Jose — these exceeded my expectations. I'll definitely shop for my next project at Planet Tone!