Customer Reviews
09/14/2021
Adam M.

United States
I recommend this product
Worth the wait
I turned an old Squire strat into a baritone build and was worried about the stock pickups not keeping up. I did not get the priority package and waited about 4 months for my preloaded pick guard. Boy, was it worth the wait! Once I had the heights dialed in these pickups punch harder than Mike Tyson. You could probably use as a bass and nobody could tell the difference. The highs are equally punchy and do not break up when using neck or bridge pickup. They are more silky smooth than the 1986 Paul Mitchel hair style book and have a bite stronger than an alligator. Will definitely use them in the future should I want to do another mod or build.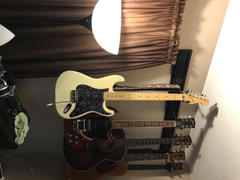 07/14/2021
Derek E.

United States
I recommend this product
The best strat pickups!
I just received my loaded pickguard with Elite Pro A5s with 7-way switching and these are the best straty sounding pickups I've ever heard! Not only are all 5 normal positions useful but adding the bridge to the neck is my favorite tone! Also the wiring was done so neat and clean it was almost a shame covering them up! These guys take care of you! I would highly recommend these pickups to anyone!
05/08/2021
Justin M.

United States
I recommend this product
The Perfect pickups
Could not be happier with the loaded start pickguard from planettone. I went with the loaded pickguard, for the ease and minimal soldering. Installation was super easy, and the pickups sound better than any single coils I've ever played.