Customer Reviews
10/05/2020
peter a.
United States
I recommend this product
Parker Nite Fly Replacement pickups, Full Throttle and Elite Pro Singles
I love my Parker and after 20 odd years I decided to replace the stock SSH configuration with new pups. Having previously purchased the American Metal Strat set I decided to give Planet Tone another shot. I decided on the Full Throttle Humbucker and 2 Elite Pro Singles. The Full Throttle has a clarity that isn't harsh or unpleasant I can keep my tone on full and the pickup is beautifully balanced when clean or having dirt thrown at it, the usable clean surprised the heck out of me! When blended with my piezo it's chimey is a good way, never heard that out of my Parker with the stock pups. The Elite Pro singles sound great as well, what I like about them so far is that they have their own vibe going on, similar to my stock pups when they were new but with better clarity and character all around. In conclusion, it took me 20 plus years to replace my stock pups and I chose Planet Tone because my previous purchase (American Metal Singles) was so impressive price and value wise. Tons of great winders out there and I chose Planet Tone for my beloved Parker based on mojo, character, quality. Thank you Jose and Planet Tone my Parker sounds great!
09/27/2020
Ron D.
United States
I recommend this product
A Deluxe Pickup for a Junior Deluxe!
I recently bought a set of pups for my daughter's Strat kit build I did for her and the over wound 1959s and the Aggressor Pups from PlanetTone did quite well. Now with a Les Paul kit - archtop, flame maple with just 1 pickup position - I named it a Junior Deluxe and wanted something clean, crisp, and full sounding. The Full Throttle was just that! I wired it with a Parallel/Series switch and the variation in tone was notable and crisp! In standard setting, it was meaty, robust, and full. In the series setting, it was thin, like a Tele, but with its own unique tone. I have plans to buy more from Planet Tone soon!! Good stuff, Jose!!!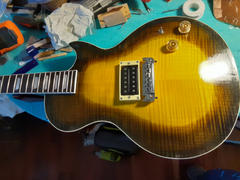 09/07/2020
Steve H.
United States
I recommend this product
Update 9-7-2020
I had my guitar tech at Guitar wishes in Linconton NC install new pot's 50's style and brother what a game changer! It's like I am playing a high end Gibson. The new sound is articulate, clear and has that secret sauce :) Find out what the secret sauce is by purchasing your own set and get ready to experience a whole nother level of sound!