Customer Reviews
01/08/2021
Elvedin S.

United States
I recommend this product
Great pickup set
I love these pickups, they are spot on sound wise and build quality is near perfection. Im ordering some more from these guys for my other Strats to breathe some life in the sound. DG set is awesome, I was able to put together a famous guitar from a extra nice saving for pickups. Really great sounding pickups.
12/19/2020
Scott L.

United States
I recommend this product
Incredible tone and quality!
Messaged planet tone and told them what I had and asked what they would suggest. They got right back to me with the answer. I purchased the DG RW and I could not be happier. Price for the quality you get is amazing with these guys. My next Strat project I will be buying an entire set from planet tone. I realize now I spent way too much on my other two single coils..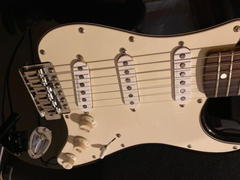 DR
12/03/2020
Daniel R.

United States
I recommend this product
Strat tones on steroids!
I've been wanting to try out these pickups for some time now, so I finally got around to ordering a set. I have some pretty standard medium output strat pickups already so I wanted to go "hot" to compare. I ordered a neck and middle venus isle with a DG bridge pickup... I was a little worried these would sound like P-90s, but they still chime and sound like good strat pickups... but push the drive pedals a lot harder. Comparing them to my tele pickups, these can be clean or raucous. I'm going to try a set of scooped mids next to cover the ultimate strat range. Good Stuff! Other pickups are Over Priced!