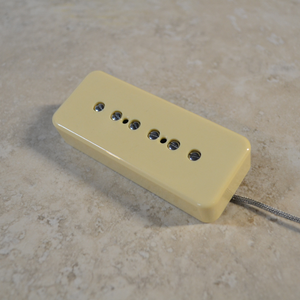 Customer Reviews
08/14/2023
Anonymous

United States
I recommend this product
The perfect Dogear!!
I replaced the stock P90 in a LP jr. Planet Tone has never let me down!
08/14/2023
George B.

United States
Black P-90
Great Product. Would recommend it to new users and professionals alike. Only issue is I also previously left a review for a purchase and never received the promised discount voucher that would have applied to theis purchase.
07/28/2023
Matt K.

United States
I recommend this product
They do everything
I installed Planet Tone "Elite Pro" P90s into a mahogany SG. These pickups are beautiful with sparkly clean tones, even glassy at times. The neck pickup has an amazing bluesy lead sound even before its driven. The middle position sound is more than just a combination of the two pickups. It's a completely different sound with overtones that don't show up in the two individual pickups. Dirt? These pickups love dirt! My overdrives are bluesbreaker, tube screamer, Klon style, and a few others. They all sound full and clear. Amp overdrive is SO creamy smooth. I could just do scales all day on the neck pickup and never get tired of that sound This is my fourth set of Planet Tone pickups. I've never been even a little disappointed