Customer Reviews
11/28/2020
Daniel S.
United States
I recommend this product
Returning customer
Everyone on the staff were great. Put a pair of 59 Specials in my 08 Epiphone LP Standard. It's everything I had hoped for and more. They growl ! Gonna put something in my new Special. Just haven't decided yet but they will be Planettone's
10/21/2020
Anonymous
United States
I recommend this product
59' special set nickel chrome!Braided Cond.
We'll balance set, It is everything that was promised and more.I have not played Pickups like these good at any price or Manufacturer. Holy Grail !! Is probably an understatement. The Harmonics and overtones will amaze even the most critical of players alike.Get a set before everyone finds out Planet Tone Pickups . Yours Sincerely Michael LaCanne Guitarist.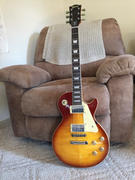 10/21/2020
Mike G.
United States
I recommend this product
Best Bang for the Buck!
I was looking to upgrade my ceramic pups in my mid-priced Ibanez semi-hollow. Even used Duncans were out of my price range, so I started doing the research and found some forum discussions on Planet Tone. I explored various models, and after a quick email exchange with their staff, pulled the trigger on a set of 1959 Special Humbuckers (both neck and bridge positions). Took a little time to get the pups (may be the hand-winding process), but couldn't be happier with the tone, and installation was a breeze.