Customer Reviews
04/15/2021
Joseph ".

United States
I recommend this product
These are the Tones your looking for!!
I found out about Planet Tone from YouTube. And I'm so glad I did!! I ordered a 54 alnico ll N 56 M 59 overwound B 7 way TBX treble bleed. I'm in love with my Strat again. This was my 2nd order. Let Jose work some magic for you!!! Boutique pickups, not boutique prices. Custom made for you. So worth any wait!!
02/16/2021
ERIC D.

United States
I recommend this product
1969 Voodoo loaded pickguard is all aces!
The 1969 Voodoo pickups with vintage stagger, TBX Tone Control, treble bleed mod, .047 Vitamin T cap, and 5-way switching have transformed my '89 Squier Strat into a beast! These pickups blow away my old stock pickups. They're very full sounding, with great character. The electronics are also a nice upgrade. Both the TBX and treble bleed mods work great, as well. Customer service was great and quick to respond. I highly recommend this set to anyone looking to get a better overall tone and a touch more pop to their sound.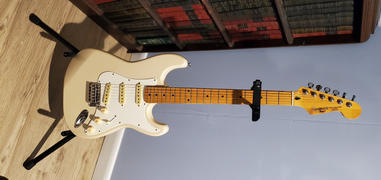 09/01/2020
Mark O.

United States
I recommend this product
Elite Pro Loaded Pickguard
These pickups rock! Great price and prompt service! these Elite Pro's sound better than my Strat with '69 Custom Shop pickups. Would definitely buy from them again:)