Customer Reviews
12/22/2021
Andrew W.

United States
I recommend this product
HSS Loaded Pickguard for Squier
Wow! Being new to electric guitar, I picked up my Affinity Squier strat and used it for about 6 months with the stock electronics, I wasn't too impressed and knew I wanted an upgrade. Then I ran across planet tone products on YouTube and figured I would give it a shot. The difference made to the sound coming out of my amp is just insane! Tone, quality, volume all blow me away! Thanks Jose!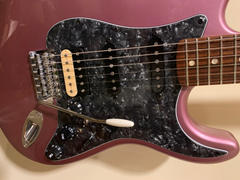 07/01/2021
Brian M.

United States
I recommend this product
A pickguard of Joy!
Got this to replace my stock mim pickups in my beautiful wine red strat. I have had the new pickguard in for a month now ( 57's in neck and middle, Fullthrottle in the bridge with split coil switch and 7 way switching). I am blown away by the sound of all positions and am amazed at the versatility of this particular HSS setup. Jose is great at his craft and a pleasure to deal with. I am very grateful to him for all that he offers and at a price that makes his product the ultimate value. Which is why I ordered Poundcakes to ugrade the first guitar I ever bought.
10/29/2020
Ryan O.

United States
I recommend this product
Great Loaded Pickguard
Took several weeks to arrive but well worth the wait. I spec'ed out an HSS pickguard with 59 overwound singles and the Aggressor humbucker for a partscaster poject. The 59's are super clear, dynamic, and ballsy. I've never heard anything as close to that SRV tone as I get with these pickups in position 4. And the Aggressor is at least as good as a JB I have in another guitar, and it sounds amazing for high gain lead tones. Also, I'm terrible at soldering but Planet Tone made it idiot-proof (on my end just had to make three connections, one to trem claw and two to the jack.) They were even helpful enough to help over messenger/phone to make sure my install was a success - great customer service!