Customer Reviews
10/09/2021
Sterling S.

United States
I recommend this product
56 P-90 Hot
I installed this on a 12 string I am building as the Neck pickup, and so far I am enjoying the tone quite well! For ascetic reasons I replaced the plastic cover with a billet aluminum one that I made, which actually had a subtle sweetening of the tone. While the overall output and tone of the pickup aren't quite what I was expecting—I have an early SG Special with P-90's—I have to say these pickups replicate the style of the early Gibson pickups pretty darn well. The tone is just ever so slightly darker than the original pickups, but then they aren't 60 years old either lol...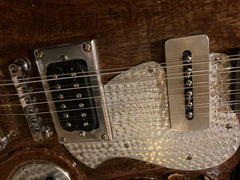 07/07/2021
Keef

United States
2nd one of these I have purchased
So, this is the 2nd one of these P90 pickups I have purchased...that says it all. I was tired of the same old - same old pickups from all the "big boys", and I'm so glad I happened apon Planet Tone. So far I have gotten 3 humbuckers, a Tele bridge, and 2 P90's from them, and all are incredible. Probable going to get another Tele bridge pickup for another of my guitars. Outstanding customer service, Jose rules! Thanks mates, Cheers to you.
05/30/2021
Keef R.

United States
I recommend this product
Mojo Magic from Planet Tone
My 5th pickup from these cats. Got the Alnico 2 magnets in it. Showed up in the morning, installed it in my Les Paul Jr. with an up-graded 920D no-load tone control harness & used it at a gig that evening. My guitar just bloomed, came to life, spoke to me. Unreal tone, loves my Tweed Deluxe & all my drive pedals. There must have been some magic involved here. And, Jose is awesome to deal with, the best customer service anywhere, and was happy to oblige me with a last minute change in string spacing. So glad I found these guys. Cheers to Planet Tone!