Customer Reviews
07/06/2021
Anonymous

United States
I recommend this product
Soul Serenade
I like 'em! Not too bright, not too muddy. They're in an alder body, and I like their tone. Clean, articulate, touch sensitive.
04/18/2021
Joseph C.

United States
I recommend this product
Love low output
Coming up with the right words for tone is hard but I put a set of these Soul Serenades in a Custom Telecaster and the first thing that comes to mind is "pretty". No unexpected overtones like a burstbucker, just the crystal clear sounds of steel strings. Beautiful clean tones in both positions and super friendly to even the most complex pedal chains. .... And if you happen to have a Gibson or any other mahogany axe I can easily hear everything from Duane Allman to Billy Gibbons with these. .... If you are over the ceramic and active pickup give these a try.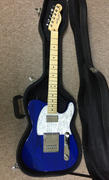 01/04/2021
Jordan C.

United States
I recommend this product
great tone
got a neck pick up to replace one in my prs standard, which was kind of muddy and stale. looked confusing when I received it and I couldn't figure out how to connect the new wires but I called Planet Tone for help, and the guy on the phone set me straight. Sounds punchier and cuts through but is still thic and deep. Good for clean and overdrive, single and double coil