Customer Reviews
10/20/2023
Indian J.

United States
I recommend this product
MHS lll Humbuckers
Great tone! The sound demo was quite accurate to their performance in my guitat. I installed them in a Fender FMT HH, all-mahogany set-neck Tele-style, & got a great Memphis sound-basically a Tele-Humbucker blend / balance. Clean, cleear, bright with character, XLNT hony-tonk blues sounds, early R'n'R, super chunky rhythm, smooth lead,.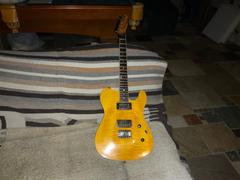 06/20/2023
Mr B.

United States
I recommend this product
PRS Pic w/MHS III
Adding a pic to the review; Bernie w/MHS
06/18/2023
Mr B.

United States
I recommend this product
Strong Tele Vibs in PRS
I was going back and forth for a while on what to put in my PRS Bernie (single cut HH). There was nothing wrong with the stock pups, just as I had the guitar for about a 1yr, I just wasn't thrilled with the over-all tone as I switched from style to to style. I knew I wanted a vintage output PAF-type but need more clarity esp when using the neck pup, so over-wound pickups was NOT where I wanted to go. I started becoming interested in Alnico III magnets and those tones. After watching Lucas' YT clip on the MHS, and a few other pups from Planet Tone, I got really excited and ordered me a pair. I mistakenly order my set as "original wiring" and not as I intended with 4 conductor wire- as I had planned to install a Tone-Split pot....but I wasn't disappointed at all!! After I installed these, my Bernie had a whole new life and character and I was thrilled with how clear the string to string balance was when using the neck pup. So much so, that when playing with the volume of the neck along with the bridge, I was hearing a "Tele on Steroids" tone that I was wanting so a while. Just Amazing tones and Clarity from all positions, even when adding several layers of gain from my pre-sets. Cheers to the Team @ PLANET TONE......I would highly recommend this set for anyone looking for a PAF with strong tones, great sustain and clarity for a Tele-type of humbucker set-up!