Customer Reviews
05/31/2022
sixstringsammons .
I recommend this product
Custom Pickup
Once the pickup was installed.....it was awesome!!! It has that growl I was looking for, but still clear. I will buy more for my other guitars.
04/27/2022
Albert G.

United States
I recommend this product
Absolute Monster of a Pickup
I asked for an Alnico V bridge pickup coming in at a hot 15.75k with coil split for various pickup flavor and Planet Tone delivered this pickup has such Clarity and definition while under high gain, likewise this pickup sounds amazing as well under low gain and clean settings. I've used this pickup in just about every genre from Worship, blues, classic rock, metal, and fusion, even cut through in a good way playing with an Orchestra! I highly recommend Planet Tone Pickups not only for their pickup but also for their awesome Customer Service!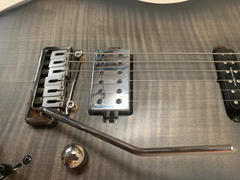 02/23/2022
Anonymous

United States
I recommend this product
FINALLY A TRUE CUSTOM SHOP PICKUP!!!
I used an A8 magnet with 17.5 on the output, traditional pole piece screws, and slug bobbins with 52mm spacing. Wow! what a winning combination! Thanks planet tone! This pickup is just as described. Warmth, growl, super luscious top end, but with my custom specs, tons of raw power. Even with the pickup lowered and leveled to my pickguard, every note still rings out with a strong lasting sustain. I highly recommend this pickup combination for anyone who thirsts for power as well as anything else this awesome company has to offer!!!